Wright about family: "You gain a different sense of the value of time when you have a child. You know, they grow up. And either you spend time with them now or you don't, and that time will pass and never come back again. So it tends to make you think more closely about it.
Currently, Wright lives in a mansion commanding magnificent views of the Californian hills north of San Francisco.

Will Wright with
Cassidy in 1988

Cassidy Wright: Cassidy was born in 1986 and shares her father's interest in technology. Wright has implemented Cassidy's suggestions for his games since she was five, when she requested an option for frogs to rule the planet in "SimEarth."
When her dad was going to add something to The Sims, the first person he talked to was Cassidy. She looks at what's going into the game and gives it a thumbs up if she thinks it's cool or a thumbs down if it's a stinker. She's the reason The Sims are about family life rather than work life. "What is interesting is the people, not what they do for a living," she says. She also suggested that "The Sims" game include more opportunities for shopping, since teenagers enjoy hanging out at the mall.

Cassidy (right) with
her Robotwars team
"Robot Action League"

Wright has nurtured his daughter's interest in the same hobby as his; Robot building. Cassidy has designed robots with her father since 1994. The two have competed in BattleBots (a TV show about robots that fight it out), which were shown on the cable network Comedy Central. Father and daughter share a sense of humor as well, giving their creations such names as "Kitty Puff Puff," "Misty the WonderBot," and "ChiaBot," instead of the menacing names of their competitors, "Battle Scar" and "Dawn of Destruction."
Wright: "It's fun for her, because she's getting used to having this media exposure and getting a sense of the way media works. Because people want to interview her and stuff like that. There's one other girl her age. They're both close friends and they're the only two females involved, really."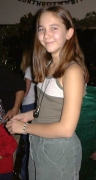 Cassidy has been creating strange and wacky robo-warriors for years now. One of her earliest bots was the lightweight Triple Redundancy, her latest was ChiaBot - it didn't do so well in battle but it looked wicked.

Other hobby's of Cassidy are karate, and drawing. "Drawing comic books might be fun (I sure read enough of them), but I'm really too much of a procrastinator to write monthly issues of anything." She also likes to travel.
Cassidy is also really into Japanese anime. Wright: "My daughter has sparked my interest in anime and manga. She's been showing me some of this stuff that is really amazing, like Serial Experiments Lain."
In 2004, she entered the California College of the Arts in Oakland to investigate her interest in a variety of media.

Joell Jones: Wright says his wife is "probably the most computer illiterate person" he knows. "She's never played any of my games. That's probably why we get along so well."
She read the reviews, and she likes hearing about other people playing it but she just doesn't want to play it."


Joel Jones was born in Ruston, Louisiana on July 24, 1948. As a child, Joell Jones was given big pads of newsprint instead of coloring books. Her mother, Luci, was very supportive of her artwork. Both her mother and grandmother had artistic talent. As early as two years of age she identified herself as an artist. She made artwork that was realistic, copying nature and its forms with precision. Her father, Reps, a chemical engineer and naturalist, taught her about nature and natural phenomena.
In 1970 she received her B.A. and was accepted into LSU's graduate program in fine art, but she moved from Baton Rouge to New Orleans. In 1973 she moved to Oakland, California to escape the social confinements of the South. Her art practice, mainly for her own experience, continued to be the major motivating factor in her life. In 1984 she received her M.A., with emphasis on creative process, from JFK University in Orinda, California.
After living on her own for an important six years she married Will Wright and began a relationship that continues to strengthen her commitment to creativity. In 1984 she presented a solo show at the Jane Brown and Company Theatre and began to exhibit her paintings in regional and national competitions. She also worked with psychiatric patients in Oakland for thirteen years as an art and verbal therapist and studied painting with Michelle Cassou.
In 1986, as she began devoting herself to being a professionally exhibiting artist, her daughter Cassidy was born. In 1991 she moved to Orinda, California.
The Oakland Hills Fire of October 1991 destroyed Joell's home and studio and all of her existing work that had not been sold or collected. The devastation of the fire, that she and her family narrowly escaped, translated into new work in the studio of her new home. She began to let go of the controlled style she had developed with the Firestorm Series and became engaged in promoting her work as a voice of hope and healing in her community.
Whitney Wright: Will has one sister, Whitney. Not a whole lot is known about her other then that she runs an equine rescue charity in North Carolina, called Hope for Horses. She founded this non-profit organization which has many volunteers.
At one point, she was trying to get a haven for horses up and running. She held an open house and many people showed up, several of them wanting to volunteer. www.hopeforhorses.org